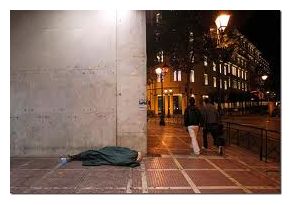 Deputy Health Minister Markos Bolaris, Athens mayor George Kaminis, and representatives of the Athens Holy Archdiocese and the National Committee for the Rights of Man have submitted shocking evidence casting light on the tremendous dimensions of the "new homeless" phenomenon spreading around in Athens.
According to the evidence, the continuous economic crisis has not only forced previously homeless people to return to the streets but has also created a new category of homeless, who were once well off and are now seeking shelter and food in charity.
The number of the "new homeless" remains yet unclear due to lack of substantial evidence.
The "new homeless" numbers are rising, while Greece is going through its fourth year of recession, with many families being directly affected by the financial difficulties and the harsh austerity measures, especially evident in the Greek capital, where the problem seems to be under no restraint.
In more than 50 locations around Athens "new homeless" - or else unemployed, fired, tax debtors and pensioners - find shelter in paper cartons and blankets, while they get their everyday meals from food banks.
In addition to this, a large number of illegal immigrants and substance abusers are also to be counted among the homeless people of Athens.