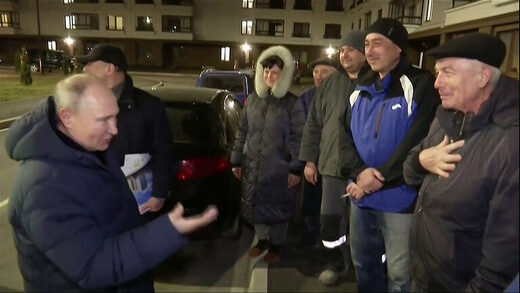 The Russian president made an unplanned stop in Mariupol where he met with locals and checked on the restoration of the city.
Russian President Vladimir Putin's surprise visit to the Donbass region was largely "spontaneous" and effectively turned into a full-fledged "working trip," Kremlin spokesman Dmitry Peskov revealed on Sunday.
The overnight trip was the first time Putin has visited Donbass since it broke away from Ukraine in 2014. It was eventually incorporated into Russia following referendums last year.
During Putin's stay in the city of Mariupol, he met locals and visited flats in a newly constructed residential building.
The city was the scene of intense fighting early in the conflict between Russia and Ukraine and ended up being heavily damaged in the process.
"Initially, the plan was only to visit this residential complex, and, of course, neither meeting the citizens, nor paying them a visit [in their homes] was planned. It was all entirely spontaneous," Peskov told reporters.