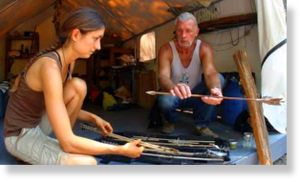 Imagine the world you know ends tomorrow. Imagine electrical grids failing, supermarkets closing and the safety nets of modern civilization crumbling, leaving millions of Americans without food and drinkable water.
Though the idea seems extreme to most people, some are preparing for such a scenario. So called "preppers" or "survivalists" are amassing food, shelters and knowledge to withstand a world different from the one that exists today.
Even small-scale disasters can prove stressful if not disastrous, as tens of thousands of Monmouth County residents learned in July when a water pipe line collapsed, disrupting drinking water from the tap.
That's a scenario Jason Borrelli, a 2005 Point Pleasant Beach High School graduate, is prepared to face.