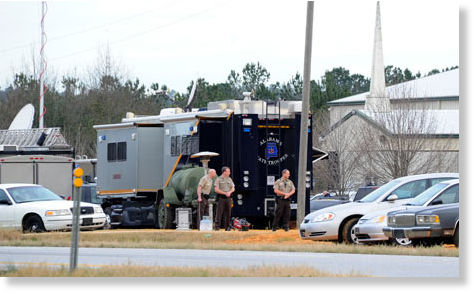 After a weeklong standoff, police raid Jimmy Lee Dykes' bunker fearing five-year-old hostage was in 'imminent danger'
FBI agents raided the backyard bunker of a murder suspect holding a five-year-old boy on Monday, freeing the child whom they believed was in "imminent danger".
By the time the raid was over, the suspect, Jimmy Lee Dykes, 65, was dead, FBI spokesman Steve Richardson said. The boy was unharmed and was receiving treatment at a local hospital.
Agents stormed the bunker after hostage talks with Dykes broke down, Richardson said.
"Within the past 24 hours, negotiations deteriorated, and Mr Dykes was observed holding a gun," Richardson said in a news conference. "Believing the child was in imminent danger, agents entered the bunker and rescued the child." Richardson did not say whether shots were fired.
Last week Dykes, a military veteran, boarded a school bus and shot the driver dead before kidnapping the boy, according to witness accounts. The funeral of the driver, Charles Albert Poland, 65, was held on Sunday
Neighbors described Dykes as a disturbed man who feared a government raid on his property, which he sometimes patrolled with guns.
Government records and interviews with neighbors indicate that Dykes joined the navy in Midland City, serving on active duty from 1964 to 1969, the Associated Press reported. His record shows several awards, including the Vietnam Service Medal and the Good Conduct Medal.