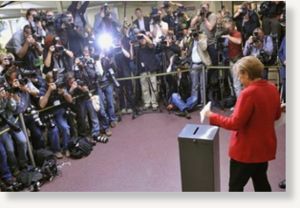 German Chancellor Angela Merkel's conservatives have suffered an election defeat in southwestern state of Baden-Württemberg amid public outcry over her nuclear policy.
According to exit polls, the Greens and the Social Democrats (SPD) have staked out a solid lead in the state elections in Baden-Württemberg with 47.3 percent of the vote, as compared to Merkel's Christian Democrats (CDU) and the Free Democrat (FDP), who gained 44.3 percent combined, AFP reported on Sunday.
The Greens polled 24 percent, an increase of 12.3 percent since the last state elections in 2006, setting the stage for a Green party premier to hold the reins of power in Baden-Württemberg for the first time in German history.
The CDU, who had an unassailable control in the state of 11 million people for nearly 58 years, obtained 39.3, while the FDP took five percent in the election, which was depicted as a litmus test of Merkel's nuclear policies in the wake of Japan's nuclear crisis.
The election campaigns in Baden-Württemberg have been consumed by talks over the nuclear crisis in Japan.