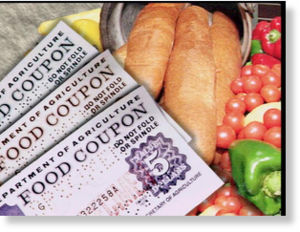 Believe it or not, one in seven Americans - 15 percent of the country - now need government-provided food stamps simply to survive, according to latest government figures.
Nearly 46 million Americans receive food stamps out of a population of some 311 million people, the US Department of Agriculture, which administers what's officially called the Supplemental Nutrition Assistance Programme reported Thursday.
The continued high unemployment and the weak US economy have contributed to the explosive growth of the food stamp programme with no end in sight to the monthly increases, CNN said noting that 27 million people were dependent on food stamps in October 2007.
Under the food stamps programme, an eligible individual gets $200 a month in food stamps - in the form of a debit card that can be used at supermarkets and stores to buy authorised food.
A two-person household gets $367 a month. A three-person household gets $526 a month. And a four-person household gets $668 a month.