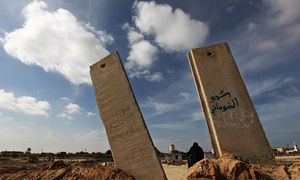 Rafah border closure expected to last for several days as Israel warns of increase in weapons smuggling during unrest in Egypt
Hamas officials today closed Gaza's southern border as Israel warned that the turmoil in Egypt could result in increased smuggling of weapons into the volatile territory.
The closure of the Rafah border crossing was expected to last for several days at least, said Ghazi Hamad, the Hamas official in charge of the Gaza side of the terminal.
A Hamas delegation which was due to travel through Egypt to Syria to discuss the fate of captured Israeli soldier Gilad Shalit postponed its trip.
Israel army radio said the military were preparing for an increase in arms smuggling to Gaza.