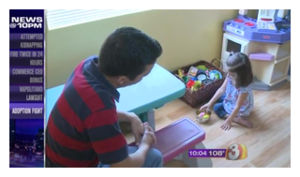 Phoenix -- A Valley family has a lot of room in their home and hearts for more children, especially those in need. The Van Tienderen's are hoping to adopt a child, but there's been a slight snag in their plan.
"It breaks my heart that some kids don't have a family, but it's just halted now," said Susann Van Tienderen, 27.
Susann and her husband Dan's hopes of fostering children and then adopting them were recently dashed because their daughter's aren't fully vaccinated for philisophical reasons, not religious.
According to a spokesperson with the state's Department of Economic Security, or DES, the state requires that each child residing in the foster home have all childhood immunizations appropriate to the child's age and health.
"I feel like if I knew every ingredient that was in each shot I would comfortable to make an educated decision," said Susann.
The family selected what they believe to be the most important vaccinations for their children and had them given to them.
According to
DES's website
, as of 2011 more than 11,000 children were placed in out-of-home care due to abuse, neglect or abandonment.
Of these children more than 2,000 had a case plan goal of adoption. African-American teen boys are in need the most of homes.
The Van Tienderen's would love to adopt two boys.