Residents of a Gwinnett apartment complex told Channel 2 Action News they've been overrun by snakes in recent weeks. Channel 2's Tom Regan learned more about the snake invasion and what could be causing it.
The most recent snake sighting happened in the breezeway of the Bradford Gwinnett Apartment building. It was described as a giant copperhead that terrified residents.
"If it got into my house, I don't know what I would have done," said resident Juanita Kennemore.
Kennemore said one of the venomous copperheads was caught last Sunday. A resident took a picture of the snake after killing it with a brick.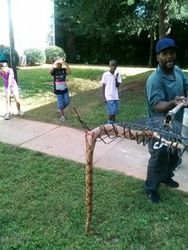 "It was copperhead and it was very huge and I feel it wasn't safe for the kids," Kennemore said.
Zoo Atlanta confirmed to Regan that the snake in the picture was a copperhead. It's estimated that it was one of seven snakes that have been spotted by residents in the apartments in recent weeks.
Resident Paul Patterson said he found a baby copperhead slithering down a hallway.
"My wife, she woke me up. I was asleep and she was screaming through the house," Patterson said.
The next day, a rat snake was found curled in their fruit bowl.
"My wife, she panicked so bad and she hasn't been at home a lot," Patterson said. "It keeps me on edge cause I don't want nothing to happen to my grand baby."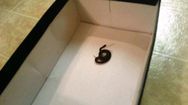 A manager of the apartments declined to comment on camera, but passed Regan's information onto the corporate office. The spike in snake sightings around metro Atlanta may be due to heavy rains, and dropping temperatures. Reptiles look for a warm dry place.
Kennemore said she's worried someone's going to get bitten.
"Something needs to be done," Kennemore said.
Resident who live in some of the rent-subsidized apartments said they contacted the Department of Housing and Urban Development in hopes they can help address the snake problem.