Both leaders dismiss U.S. concerns about Iran's growing ties with Latin America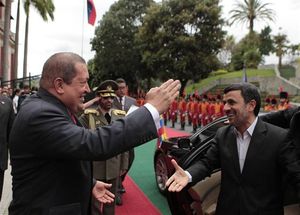 Caracas, Venezuela - Iranian President Mahmoud Ahmadinejad and Venezuela's Hugo Chavez lavished praise on each other on Monday, mocked U.S. disapproval and joked about having an atomic bomb at their disposal.
The fiery anti-U.S. ideologues have forged increasingly close ties between their fellow OPEC nations in recent years, although concrete projects have often lagged behind the rhetoric.
Both leaders dismissed U.S. concerns about Iran's intentions in the Middle East and its growing diplomatic links with Chavez and his allies in Latin America.
"They accuse us of being warmongers," Chavez said during a joint press conference. "They're the threat."
As he often does, the theatrical and provocative Chavez stuck his finger right into the global political sore spot, joking that a bomb was ready under a grassy knoll in front of his Miraflores palace steps.
"That hill will open up and a big atomic bomb will come out," he said, the two men laughing together.