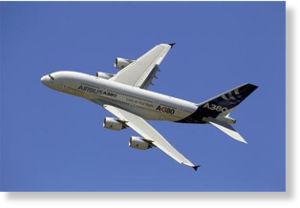 Airbus said on Thursday it had discovered more cracks in the wings of two A380 superjumbo aircraft but insisted the world's largest jetliner remains safe to fly.
It is the second time in as many weeks that hairline cracks have been reported in the wings of the double-decker aircraft, which first entered service four years ago, and they are expected to lead to additional safety checks.
"Airbus confirms that some additional cracks have been found on a limited number of non-critical brackets ... inside the wings of some A380s," the planemaker said in a statement.
"Airbus emphasizes that these cracks do not affect the safe operation of the aircraft".
Airbus has dismissed calls to ground its superjumbo fleet over the cracks, which first came to light during repairs of a Qantas A380 that was damaged by an engine blowout shortly after taking off from Singapore in November 2010.