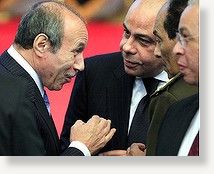 Egyptians are celebrating the sentencing of the once-feared former Interior Minister, Habib el-Adly, to 12 years in prison, a decision which sets the scene for a series of high-profile corruption trials of senior figures from the government of the ousted president, Hosni Mubarak.
Seen as a triumph for the rule of law and a vindication of the revolution that defined the so-called Arab spring, the trials could include Mr Mubarak.
''This marks a new beginning,'' said Salama Ahmed Salama, the head of the editorial board of the independent newspaper
El Shorouk.
''For the first time someone who represented such a brutal force is questioned, interrogated and held accountable. This is something new for Egyptian politics, and it is new for Egyptian justice.''
El-Adly's lawyer could not be reached for comment. But Gameel Said, a lawyer representing about six other former government officials, called the trial fair. ''There was no animosity between the judge and the defendants,'' he said. ''The requirements of justice were considered in this case like any other case.''
Arguably the most powerful cabinet minister under Mubarak, el-Adly, 73, personified the government's repressive tactics. He presided for 14 years over a central security force of nearly 400,000. The security police focused exclusively on suppressing domestic dissent and unrest, specialising in torture and detention without trial. Among the force's most common targets were Egyptians who sought to apply the teachings of Islam to political life, whether through violence or the ballot box.