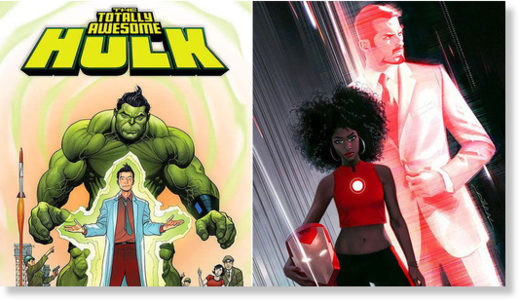 Pushing diversity at the cost of great storytelling is wreaking havoc on the comic book industry sales and splitting the fanbase. But beware anyone who dares criticize as they risk being cast out of the industry.
Race swaps & hipster comics
In autumn 2014, readers of American Superhero comics came across something a bit different. The first issue of Marvel's The Unbeatable Squirrel Girl saw an established character strangely changed from a cute and sassy young woman into an awkwardly shaped, goofwho cracked unfunny gags about pop culture. She was, bluntly, ugly - deliberately badly proportioned and drawn in a casual "indie" fashion. The book was aimed at hipsters, not Marvel fans.
Readers didn't take to the character because it looked an ironic in-joke. It became a flagship "diversity" book for Marvel.
Marvel Comics were 'looking to be politically correct'. Other changes soon became apparent at Marvel Comics. Established characters changed race or sex; female characters became unfeminine; male characters became less heroic; and the number of gay characters increased dramatically. More and more traditional characters were changed for political reasons.