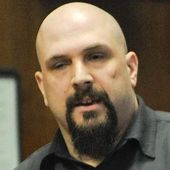 He's a bona-fide hero who stopped the so-called "Butcher of Brighton Beach" at the end of a 28-hour city killing spree - but a Manhattan judge yesterday said a father of two is entitled to zero from the city for his injuries in the harrowing 2011 subway encounter.
Joseph Lozito sued the NYPD in January 2012, claiming police officers did nothing to help him as he confronted violent madman Maksim Gelman on a packed No. 3 train.
But Judge Margaret Chan tossed the case yesterday, saying that while she lauded Lozito's bravery, cops did not have a specific charge of saving him from Gelman.
Because "no direct promises of protection were made to Mr. Lozito," the police had "no special duty" to protect him.