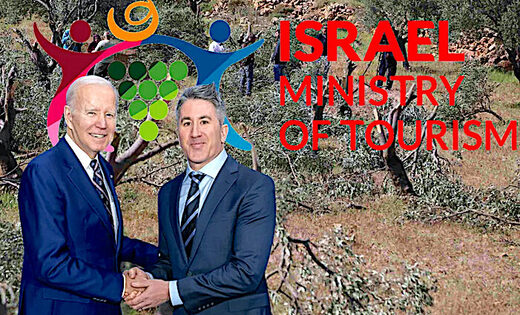 The Biden White House and top Democrats have denounced Palestine solidarity activists as antisemites for protesting outside an Israeli-owned restaurant in Philly. Its owner happens to be an official Israeli government propagandist with close ties to the Biden White House.
If powerful Democrats are to be believed, it was a night of shattered glass in Philadelphia, PA this December 3. Local Palestine solidarity activists calling for a ceasefire in a war that has left 16,000 civilians dead in the besieged Gaza Strip stopped for a few minutes outside an "Israeli-style" falafel shop and shouted chants accusing the business of supporting Israel's ongoing massacre. Beyond leaving
a few stickers on the restaurant's windows,
they did no damage and moved on.
The restaurant in question was not just some random mom-and-pop eatery that fell victim to an anti-Semitic pogrom. It is owned by
celebrity chef Michael Solomonov, an Israeli government culinary ambassador
who appears in Department of Justice
Foreign Agent Registration Act documents
as
an official propagandist for the country's Ministry of Tourism.