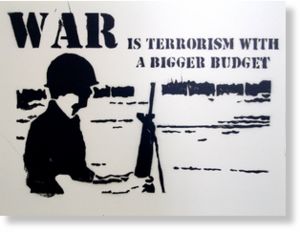 Congress attacks the constitution
The US Congress has ended the year 2011 by assaulting the constitution. The attack came in the form of the 2012 National Defence Appropriations Act (NDAA), which passed both the House of Representatives (14 December) and the Senate (15 December) by large margins despite having an attached provision (the "Homeland Battlefield Bill") that allows the United States military to take into custody and hold indefinitely without trial any American citizen designated a "terrorist suspect".  
As if to make sure that everyone knew just what they were voting for, Senator Lindsey Graham, Republican from South Carolina who supports the legislation, said on the Senate floor: "The statement of authority to detain does apply to American citizens and it designates the world as a battlefield, including the homeland." That means US citizens designated terrorist suspects are stripped of their protections under the constitution. They simply fall into a judicial black hole. Ironically, Congress did this to the country on the 220th anniversary of the Bill of Rights.
At first it seemed that President Barack Obama was prepared to veto the bill so as to prevent this attack on citizen rights. But this proved to be untrue. What Obama was really interested in was language that prevents the military from interfering with the work of the FBI in cases of suspected terrorism. Actually, this should add to our worries because the FBI has a disturbing record of
manufacturing terrorists
out of poor and disgruntled US citizens. Given the numerous scams and entrapment scenarios the bureau runs, we will probably see a macabre two-step dance where the FBI makes the terrorists and the military takes them away, never to be seen again outside of Guantanamo Bay. Guantanamo Bay has become Washington's version of Devil's Island.