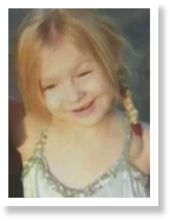 Matthew Kaleb Pierson, 18, admitted to leaving Jada Beth Williams beaten and blooded in the garage of the girl's grandmother's house, police say.
An Ohio teenager is in jail on $500,000 bond after he confessed to brutally killing his 5-year-old niece with a scythe,
WXIX-TV reported
.
Jada Beth Williams' body was found lying in a pool of blood in the garage of a home in Jackson Township.
Tina Williams, the little girl's grandmother, made the gruesome discovery and called 911, telling the dispatcher that Jada "was here with the guy I live with and my grandson, and she is dead."
In a recording of the call, obtained by the
Fayette Advocate
, Williams says the girl is "covered in blood."