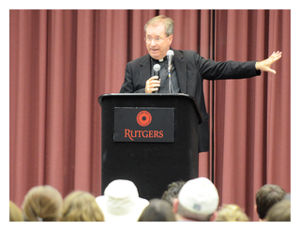 Rev. Gary Thomas, a Vatican-certified exorcist, spoke about practicing exorcisms, in which he attempts to drive demons out of someone's thought-to-be-possessed body.
"Satan has been defeated," Thomas told a multi-faith audience of 200 people in the Cook Campus Center.
He said in Catholic teachings, Jesus Christ's crucifixion signified the ultimate defeat of Satan, explaining the cross's prominence in the church.
Victoria Coglianese, secretary of the Catholic Student Association at the University, said members in her organization wanted to bring a speaker like Thomas to campus because they feel students are mature enough to handle the serious content of the visit.
"We really wanted someone that would attract a lot of people. The event holds a lot of history, [and is an] intriguing topic," said Coglianese, a School of Environmental and Biological Sciences junior.
Citing hope, confidence and thanksgiving as the central meanings symbolized in the cross and the Eucharist, Thomas said these show the positive forces that can counter demons in both the modern and the historic church.
Thomas said sins are a vessel for evil to enter the world.
The concept of sin grew unclear through time, he said, and it has become difficult to tell exactly what behavior is sinful.