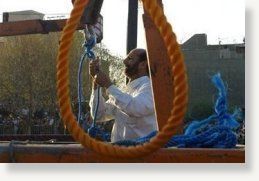 Iranian courts on Sunday sentenced two people to death for running porn sites, prosecutor general Abbas Jafari Dolatabadi said, quoted on the Islamic republic's official IRNA news agency.
"Two administrators of porn sites have been sentenced to death in two different (court) branches and (the verdicts) have been sent to the supreme court for confirmation," Dolatabadi said, without naming the two convicts.
Last December, Canada expressed concern over the reported death sentence handed down to an Iranian-born Canadian resident for allegedly designing an adult website.
Saeed Malekpour, 35, was convicted of "designing and moderating adult content websites," "agitation against the regime" in Tehran, and "insulting the sanctity of Islam," according to an online campaign calling for his release.