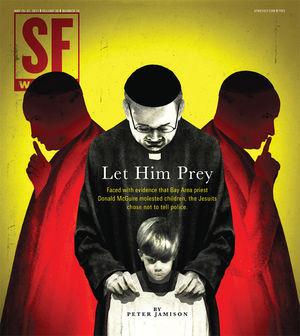 The conservative Catholic family lived on a quiet
cul-de-sac
in Walnut Creek and took pains to observe the traditions of a church racked by social change. Their lives appeared driven by the famous motivational phrase of Saint Ignatius,
Ad majorem Dei gloriam
- for the greater glory of God. It was the same motto that ostensibly guided the Jesuit priest, Donald McGuire, to whom they turned for spiritual guidance.
Then, in 1993, they learned that McGuire had done unthinkable things with their 16-year-old son, Charles, who traveled with him as his personal assistant. The boy and the priest had allegedly looked at pornographic magazines, masturbated, and taken showers together. The family took this devastating news to an esteemed San Francisco priest, Joseph Fessio, who, like McGuire, had once been a teacher at the University of San Francisco.
Fessio runs the Ignatius Press, a Catholic publishing house based in the Sunset District that is the primary English-language publisher of the pope's writings. He and McGuire shared a reputation for doctrinal orthodoxy. McGuire, for his part, was a cleric of worldwide renown, functioning as adviser and confessor to Mother Teresa. While family members considered reporting the abuse to secular authorities, Fessio urged them to stay quiet until he could confer with Jesuit higher-ups.
Confronted with the allegations,
McGuire, a famously manipulative man known both for his charm and periodic rages, denied Charles's accusations or made excuses
. His Jesuit bosses in Chicago, where McGuire was technically based, ordered him to undergo a residential treatment program at a psychiatric hospital for priests. In about seven months, McGuire was released and returned to active ministry.
He continued to prey on other children for the next nine years.