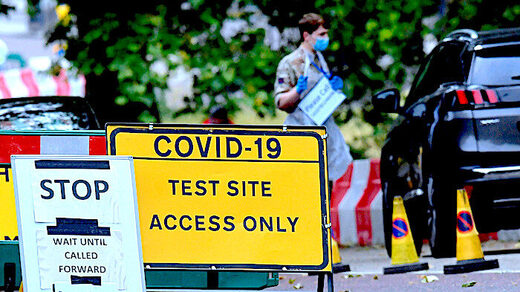 When seven staff at a Scottish football club tested positive for coronavirus, alarm bells went off.
But really alarming was when six of those results turned out to be wrong.
Such inaccurate tests are exaggerating the problem.
Last weekend, at very short notice, the UK reintroduced quarantine measures for people arriving from Spain. For those already in Spain, or for whom it was too late to postpone their trip, the decision is very inconvenient. For those who can't work at home when they return, it may mean missing out on wages for the two weeks they will have to spend in isolation when they get back.
But what if the apparent rise in cases has been exaggerated by seemingly small flaws with testing?
The potential for problems was illustrated by Scottish football team St Mirren last week.
The club, based in Paisley, a town just west of Glasgow, reported seven positive test results for Covid-19 among its staff. Alarm bells went off about what this might mean for the new Scottish football season. But this
"cluster"
was a mirage. When the seven people were re-tested using a more accurate method, just one of them was found to be Covid-positive.
In Spain, half of the reported cases have been in people who had no symptoms.
We know that many people who test positive never suffer any symptoms.
But what if many of these people don't have Covid-19 at all?