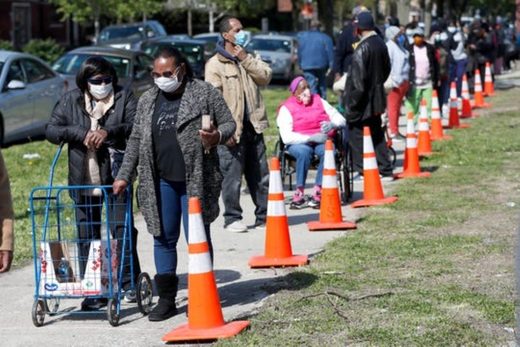 Kate Maehr has never seen anything like it: lines stretching for blocks as people, many with children, inch forward to get boxes of food they hope will last until the next giveaway, until the next paycheck or until they can get government food assistance.
"It's just heartbreaking," said Maehr, executive director of the Greater Chicago Food Depository.
"They're finding themselves in a set of circumstances where they have no income and they also have no food, and it happened in an instant."
The number of people seeking help from her organization and affiliated food pantries has surged 60%
since the start of the coronavirus pandemic, which has shut down the nation's economy and thrown tens of millions of people out of work. Across the country, worries about having enough to eat are adding to the anxiety of millions of people, according to a survey that found 37% of unemployed Americans ran out of food in the past month and 46% said they worried about running out.