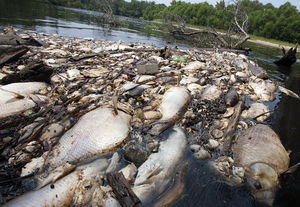 The paper mill lnked to a
substantial fish kill
in the Pearl River system cautiously admitted responsibility Wednesday, as the trail of dead fish reached
Lake Pontchartrain
and a reservoir near Jackson, Miss., was opened in an attempt to flush the pollutants out.
Officials from the
Temple-Inland plant
in Bogalusa acknowledged that a mixture of pulp from the paper-manufacturing process and unspecified chemicals poured into the Pearl River late last week at levels exceeding the plant's environmental permits and might have depleted oxygen levels in the Pearl and its tributaries.
Numerous species of fish and shellfish, in large numbers, have turned up dead in the Pearl River system since the weekend as a result.