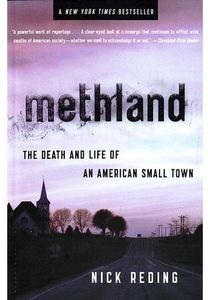 In his best-selling - and uncannily prophetic - 2009 book,
Methland: The Death and Life of an American Small Town
, author Nick Reding compared crystal meth to a "sociocultural cancer." The easy-to-make stimulant can spread with the speed and destructiveness of a disease, but curiously, it can take many years to take hold, like a cell mutation triggered by decades of bad decisions. The subject of Reding's book was a struggling town in Northern Iowa called Oelwein, home to a population of 6,415. A once-wholesome community, Oelwein had fallen on hard times during the past decade, when the collapse of its industries - including many family-run farms - threatened its citizens livelihoods as well as their way of life. In classic post-traumatic stress mode, Oelwein fell victim to the crank epidemic, becoming a midwestern focal point for speed dealers.
Reding spent years reporting and writing
Methland
, which struck a chord in a nation experiencing a painful recession. He pointed out how economic problems had spurred towns like Oelwein to become unlikely centers of the drug trade. A sizable percentage of the town's citizens ended up becoming addicted to meth or pills. Others were engaged in manufacturing or transporting illegal drugs.
To mark the recent paperback release of his book, Fix columnist Jeff Deeney talked to Reding about the current state of Oelwein and similar towns across America. Deeney works as a drug counselor in inner-city Philadelphia, where he regularly witnesses what life is like for the dealers and addicts who remain invisible to most of us. Like Reding, he has witnessed first-hand the toll that America's declining economy has taken on the underclass, who have increasingly come to view drugs not just as an escape but also as a rare avenue of opportunity. The two writers talked recently.