Comment: What's more, they tracked his phone and busted him with a platoon of cop cruisers on the open highway, then handcuffed him (and hogtied his brother)...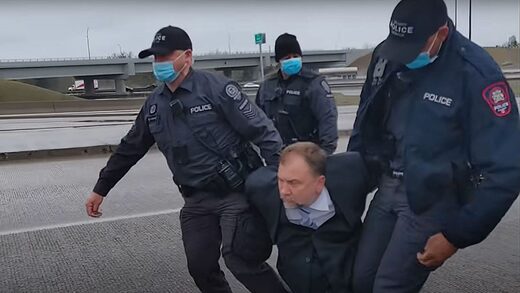 A Canadian pastor who went viral last month for ordering out police who showed up to his church on Easter weekend
was arrested Saturday for violating COVID-19 limits on gatherings set by a new court order
.
Pastor Artur Pawlowski, the head of Calgary's Street Church in Alberta, and his brother, Dawid Pawlowski, were arrested and
charged with "organizing an illegal in-person gathering,"
the Calgary Police Service said in a
statement
.
Video capturing the arrests
showed several police vehicles parked on the street as officers carried the handcuffed brothers, who appeared to refuse to walk on their own. An onlooker can be heard telling the officers, "Shame on you guys, this is not Communist China. Don't you have family and kids? Whatever happened to 'Canada, God keep our land glorious and free'?"