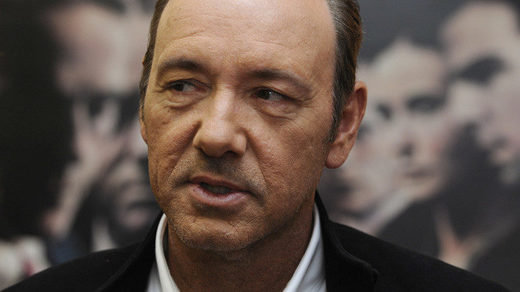 Kevin Spacey created a "pattern of sexual harassment" on the
House of Cards
set, according to past and present show employees cited by CNN. The Oscar-winning actor was earlier dropped by both talent agency CAA and his publicist, Staci Wolfe of Polaris PR.
On Thursday, CNN
reported
eight people who work or worked on the House of Cards series set characterized the hit show's work environment as "toxic." The staffers, who spoke to CNN on condition of anonymity, deemed Spacey's behavior "predatory," saying it featured unwanted touching and mostly targeted young and male production staffers.
On top of that, an anonymous former production assistant recounted an incident wherein he and Spacey were in a moving car close to the set. Spacey was driving them to his trailer and allegedly put his hand down the production assistant's pants. "I was in a state of shock," the former staffer alleged. "He was a man in a very powerful position on the show and I was someone very low on the totem pole and on the food chain there."
The production assistant asked for details of what happened next not to be disclosed for fear that so doing would identify him.
Once they had reached the trailer, Spacey allegedly cornered the production assistant, blocking his exit and making inappropriate contact.
"I told him, 'I don't think I'm ok with this, I don't think I'm comfortable with this,'" the production assistant said, adding that at this point Spacey became "visibly flustered," and fled the trailer.
The first allegations of sexual harassment against Spacey hit on Sunday. In an interview with BuzzFeed on Sunday,
Star Trek: Discovery
actor Anthony Rapp alleged that Spacey had made a sexual advance towards him back in 1986. At the time, Rapp was only 14 while Spacey was 26.
Spacey took to Twitter to respond and apologize for what he called "inappropriate drunken behavior," which he said he couldn't remember. The Oscar winner came out as gay in the long statement. "I have loved and had romantic encounters with men throughout my life, and I choose now to live as a gay man," he wrote.
On Monday, Netflix said it was "deeply troubled" by the allegations made against Spacey, 58. The media giant said the upcoming sixth season of political drama
House of Cards
, which Spacey stars in and produces, would be its last.
"In response to last night's revelations, executives from both of our companies arrived in Baltimore this afternoon to meet with our cast and crew to ensure that they continue to feel safe and supported. As previously scheduled, Kevin Spacey is not working on set at this time," a
statement
from Netflix and producer Media Rights Capital said.
However, a Netflix spokesperson told Guardian Australia that the decision to end the show had been made months earlier, and not in response to the allegations about Spacey.
Further allegations surfaced on Tuesday, when filmmaker and actor Tony Montana alleged to Radar Magazine that Spacey "forcefully" groped him in a Los Angeles bar in 2003. Montana was in his thirties at the time.
Wolfe said on Wednesday that the actor is taking a time-out to seek "treatment" following allegations of sexual misconduct. "Kevin Spacey is taking the time necessary to seek evaluation and treatment," the actor's representative said in a statement provided to TheWrap.
House of Cards
star Kevin Spacey has been dropped by talent agency CAA, and his publicist Staci Wolfe of Polaris PR, according to Deadline Hollywood. The actor, now facing numerous sexual harassment allegations, had been with CAA for eight years.