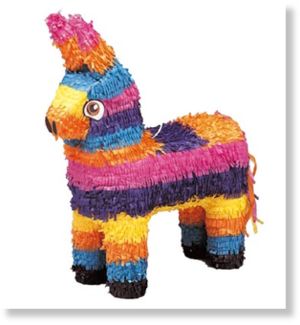 Airline security seems to be entering the realm of the absurd: Witness an Air Canada flight attendant confiscating a pinata from Nova Scotia resident Robert Braunschweig.
QMI Agency reports Braunschweig was returning from Mexico earlier this month when he bought the papier-mache animal figure at a gift shop in Toronto's Pearson International Airport during a connection stopover.
As Braunschweig boarded his flight home, a flight attendant spotted the toy in his carry-on bag and confiscated it, claiming it was a threat to security.
"My eight-year-old daughter was seriously disappointed," he told QMI. "She insisted that I bring her something from Mexico so I bought her a small pinata."
Leaving aside Braunschweig's thinking behind buying a Mexican souvenir for his daughter in Toronto, the pinata seems an unlikely threat.
Mexican pinatas
originate with Christmas festivals and can be made of paper-covered clay. Today they're mostly associated with children's parties, with blindfolded kids whacking suspended pinatas to break them and disgorge the treats inside.