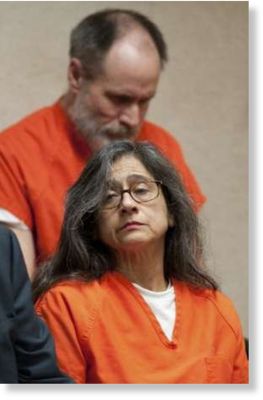 A California woman kidnapped as a girl and repeatedly raped over 18 years hit out at her abductors Thursday saying they had stolen her life, as a court sent the couple away behind bars.
Jaycee Dugard, who was 11 when she was seized and is now 31, said she "hated every second" of her abuse at the hands of Phillip and Nancy Garrido, telling them: "There is no God in the universe that would condone your actions."
Phillip Garrido, who fathered two children with Dugard after kidnapping her in 1991, was given 431 years, while his wife was jailed for between 36 years and life, after a plea bargain.
Clad in orange prison uniforms, the Garridos -- who pleaded guilty in April under a deal with prosecutors -- sat silently as Dugard's statement was read out in the court by her mother, Terry Probyn.
"To you, Phillip, I say that I have always been a thing for your own amusement. I hated every second of every day of 18 years because of you and the sexual perversion you forced on me," Dugard said in the statement.
"As I think of all of those years, I am angry because you stole my life and that of my family. Thankfully I am doing well now and no longer live in a nightmare," Dugard added.