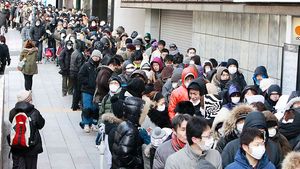 Couple endures nightmare honeymoon- Happy to be home safe at last
A Swedish couple are glad to be safely home after completing their four-month honeymoon trip - which took in the sights of a blizzard in Munich, a cyclone in Cairns, bushfires in Perth, floods in Queensland, an earthquake in New Zealand and then a nuclear disaster in Japan.
Stefan and Erika Svanstrom set out - along with their baby girl, Elinor - on December 6, following their November wedding, and were immediately stranded in Munich, Germany, due to snow from a so-called "storm of the century".
The 32-year-old bride told
The London Times
that despite the rocky start, the couple thought "things will get better. We're in love. And just think of the beaches we're heading for in southeast Asia."