July 2010 saw extreme weather and the further apparent collapse of our planet's eco-system come front and center. Despite these dire warning signs, the psychopaths in power continue to do their best to obfuscate the facts and embroil as many normal human beings as possible in conflict, strife, suffering and death.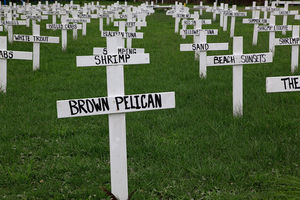 On July 15th, three months after the
Deepwater Horizon
oil rig exploded and sank to the bottom of the Gulf of Mexico, BP
announced
it had successfully capped the gushing oil well. Its vice president Kent Wells was so relieved that he said, "I am very excited that there's no oil in the Gulf of Mexico." It's hard to know what to make of such a comment after his company leaked
5,000,000
barrels of oil into the Gulf of Mexico. Perhaps he thought that with the oil flow halted, BP was suddenly off the hook and free to carry on as normal? Apparently so, as the company announced several days later it will soon begin drilling
to even greater depths
off the coast of Libya
. So did this latest effort to cap the well actually work? We can't know for certain because we have to take BP's word for it. Remember that it was in BP's interest to underestimate the oil flow rate; the lower the oil flow rate, the less they have to pay the US government and the local Gulf population in fines and compensation. The true cost to the whole planet may be higher than anyone could have imagined.
Read on for the web's best comprehensive summation of the current state of our planet...