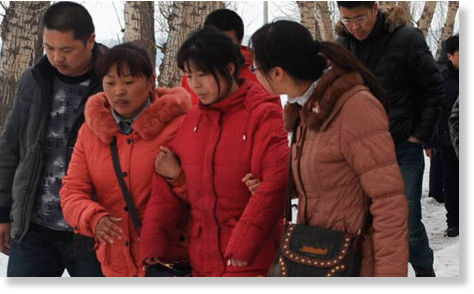 Zhou Xijun is said to have confessed to killing baby and burying body in snow after finding him on back seat of car
A car thief in north-eastern China who discovered a baby boy asleep in a stolen 4x4 killed him and buried the corpse in the snow.
The 48-year-old thief's confession prompted a wave of seething incredulity on the internet in China and a bout of soul-searching about parenting, capital punishment and media censorship.
According to a post on the Jilin province public security bureau's microblog, Zhou Xijun turned himself in to Changchun city police at 5pm on Tuesday. He confessed that he stole the Toyota RAV4 from outside a supermarket on Monday morning, strangled the two-month-old boy, named Xu Haobo, after noticing him while driving on the highway, and buried his corpse in the snow. Zhou abandoned the vehicle outside a primary school in a nearby city and took a minibus back to Changchun.
The infant's father, a supermarket owner surnamed Xu, had left the car's engine running while he entered his market to turn on a stove. He emerged 10 minutes later to find the car missing, immediately called the police, and broadcast a message on a local radio station saying that he would not hold anybody accountable if the baby was safely returned.
The child's mother had a nervous breakdown after hearing Zhou's confession, Chinese media
reported
. It is unclear whether the baby's body has been found.
Xu's broadcast spurred an extensive manhunt across snow-covered Changchun, an industrial city of 7.6m people, known as "
China's Detroit
" for its high concentration of automobile manufacturing plants. The bulk of Changchun's police force - either 3,500 or 8,000 officers, according to conflicting reports - spent two days searching for the baby alongside scores of local volunteers.
Thousands attended a candlelit vigil in Changchun on Tuesday night, and "Changchun stolen infant" was among the most popular topics on the Sina Weibo microblogging website on Wednesday afternoon. Amid an outpouring of sympathy, some Weibo users debated whether the parents should be held partially responsible for losing the child. Some said the killer should be executed.
Other posts held a mirror up to the intense government control and crass commercialism that define life in China. Journalists leaked a circular from the Changchun propaganda department instructing local media on how to report on the crisis. "No frontpage coverage allowed," it said. "There shall be no questioning of the police's work." Posts containing the instructions have since been deleted by internet censors.
A Buick dealership in a neighbouring province used a picture of the baby in a microblog post advertising a GPS system that would guarantee customers "peace of mind" in similar circumstances. The dealership was skewered by netizens - "go die" wrote one - and subsequently issued an apology.
According to official statistics, China's homicide rate is 0.8 cases per 100,000 people - among the
lowest
in the world - and 94.5% of these cases are solved. Yet Zhou Xiaozheng, a sociology professor at Renmin University in Beijing, says that because many cases are unreported, the actual number may be much higher.
Zhou said that widespread desperation caused by China's growing wealth gap, rampant corruption and environmental degradation may be fuelling a rise in crime. "Social conflicts are obviously increasing, and this obviously takes the form of criminal cases," he said.