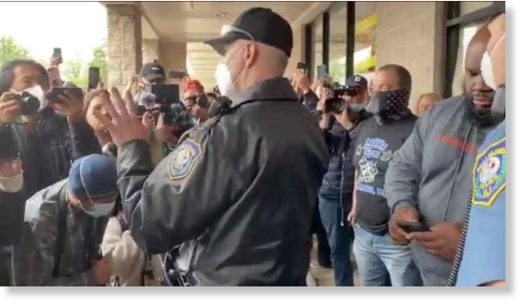 Footage of police in New Jersey informing anti-lockdown protesters they're in violation of Covid-19 executive orders, but will not face consequences, is the latest example of officers taking a more hands-off approach to the rules.
People began gathering outside Atilis Gym in southern New Jersey hours before it opened on Monday to show support for the business defying executive orders from the governor, and to protest the continuing lockdown measures in place across the state.
While almost no protesters wore face coverings and were clearly breaking social distancing guidelines by gathering in a big crowd, police simply informed those gathered that they were in violation of current orders - and to "have a nice day."
"Formally, you are all in violation of the executive order," an officer told the crowd. "On that note, have a good day. Everybody be safe." Police then left the area to the sound of cheers from the protesters.