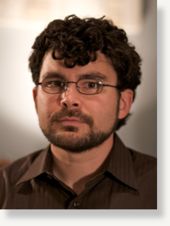 A six-woman Bernalillo County Metropolitan Court jury has found Phil Mocek "NOT GUILTY" of all of the charges brought against him following his arrest in November 2009 at the TSA checkpoint at the Albuquerque airport.
We'll be posting more details as well as audio recordings and photos of the trial. The jury returned its verdict (
video of verdict and Mr. Mocek's reaction
) Friday evening after about an hour of deliberation, following a two-day trial we attended.
Mr. Mocek did not testify, and the defense rested on Friday without calling any witnesses or presenting any evidence. the jury found that even without rebuttal, the TSA and Albuquerque police had failed to satisfy their burden of proving any of the four charges: concealing his identity, refusing to obey a lawful order (it was never entirely clear whether this was supposed to have been an order to turn off his camera, an order to leave the airport despite having a valid ticket, or an order to show ID, none of which would have been lawful orders), trespassing, and disorderly conduct.
The best evidence in the case was the video from Mr. Mocek's digital camera (bellow) that both the TSA and the police had tried to stop Mr. Mocek from filming, and which ended when they seized his camera out of his hands and shut it off. In her closing argument, defense counsel Molly Schmidt-Nowara argued that the police and TSA witnesses were not credible, that their testimony was contradicted by the video and by common sense, that what they really objected to was having Mr. Mocek legally take pictures, and that any disorderly conduct was on the part of the police and TSA.