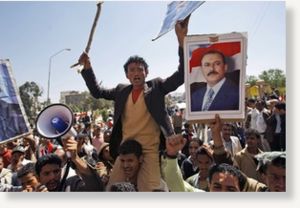 Police opened fire on protesters during clashes in a southern Yemeni port Wednesday, killing two people, in the first known deaths in six days of Egypt-style demonstrations across the country's biggest cities, demanding the ouster of the president, a key U.S. ally in battling al-Qaida.
Around 2,000 police flooded the streets of the capital, Sanaa, trying to halt protests. Firing in the air, police locked the gates of Sanaa University with chains to prevent thousands of protesting students inside from marching out join crowds demonstrating elsewhere in the city, witnesses said.
A call spread via Facebook and Twitter urging Yemenis to join a series of "One Million People" rallies on a so-called "Friday of Rage" in all Yemeni cities, demanding the ouster of President Ali Abdullah Saleh, in power for 32 years.
"We will remain in the streets until the regime's departure," according to a statement posted on Facebook. Copies signed by a group named the Feb. 24 Movement were distributed among youth via e-mail. The group is taking that name because organizers hope to have their biggest protest on that day next week.