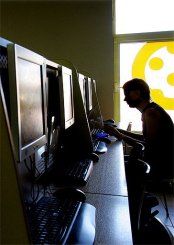 Washington - A bipartisan trio of senators has introduced a new cybersecurity bill that eliminates the president's authority to switch off the Internet.
The "kill switch," as it's known, exists in the 1934 Telecommunications Act, which was amended in 1996. It gives the president powers to shut off all regulated telecommunications if he or she deems it vital to national security interests.
But that's not going to fly any more, say Sens. Joe Lieberman (I-CT), Tom Carper (D-DE) and Susan Collins (R-ME).
The three senators on Thursday introduced The Cybersecurity Freedom Act of 2011, which would take away the president's power to shut off the Internet.