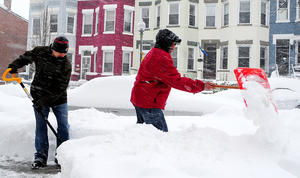 District property owners could soon be ticketed for not shoveling snow off the sidewalks around their land.
The D.C. Council is considering a bill that would empower the city to write tickets of at least $25 for residential property owners and at least $250 for businesses if they don't clear their sidewalks. They'd have
eight hours from the time the snow stops
to get the job done.
"Pedestrian safety should be a priority no matter what season it is," said Ward 3 Councilwoman Mary Cheh, who introduced the bill. "Every year, though, the District wakes up during winter and rediscovers that the current scheme for enforcing sidewalk clearing is impractical and does not work."
The city currently requires property owners to shovel within the eight-hour time frame. But if a property owner doesn't act, the city can clear the sidewalk and then sue the property owner for the cost. That's too costly and time consuming to be effective, officials said.