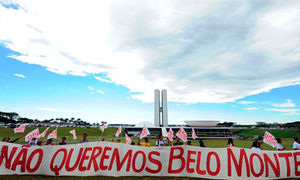 Belo Monte hydroelectric dam project halted after ruling that it risked damaging fish stocks on Xingu river
A Brazilian judge has ordered construction to be suspended on a controversial hydroelectric dam in the Amazon.
In his ruling, Judge Carlos Castro Martins said that all working on the Belo Monte dam that interfered with the natural course of the Xingu river should be halted because of the risk that fish stocks would be damaged.
The £7bn dam would reputedly be the third largest in the world, after China's Three Gorges and the Itaipu project on the Brazil-Paraguay border.
The injunction is the latest development in a decades-long battle against the Belo Monte dam, plans for which were conceived in the mid-1970s but subsequently shelved after protests.
Brazil's government argues that the dam is essential to the energy needs of the country's booming economy. A full environmental licence for the construction was issued in June, with federal authorities promising a series of initiatives to
lessen the social and environmental impact of the dam
.
On Tuesday, activists from the anti-dam Xingu Para Sempre movement claimed the project had brought unprecedented chaos to the riverside town of Altamira, with thousands of impoverished migrants having arrived by boat or road in search of work.
"Nothing good is coming to the region and all of our darkest prophesies are coming true," Antonia Melo, one of the movement's leaders, said.
Earlier this week, politicians from Altamira's townhall filed papers with the regional public prosecutor, asking for work on the dam to be interrupted.
"The former president, Luiz Inacio Lula da Silva, publicly promised ... that the project would bring major benefits to Altamira and 10 other towns around this mega-project," the document said. "But what we have so far seen are painful frustrations such as increased poverty, insecurity and social chaos."
On Wednesday the judge issued his ruling to suspend building work.
While there has long been widespread opposition to the dam from environmentalists, social activists and even Hollywood figures such as the director James Cameron, Altamira's political leaders have been broadly supportive of Belo Monte in the past, arguing it could bring development to the region.
Norte Energia, the consortium behind Belo Monte's construction, is expected to appeal against the decision.