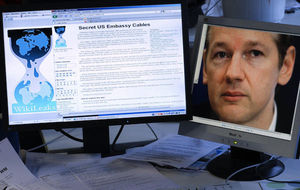 Wide-eyed, unquestioning worship of Julian Assange is embarrassing and creepy.
Just in time for Christmas, the cult of Julian Assange has reached a Messianic crescendo.
As millions of Christians give praise to the man-god they consider to be "the way and the truth and the life", so radicals, who are normally so sniffy about anything that looks or sounds like religion, are bending their collective knee to that "truth teller" Assange.
Here's a man who simply wants to reveal to us The Truth, we are told, yet who is persecuted and even imprisoned for doing so.
"Truth in chains" is how one WikiLeaks-loving hack described Assange's temporary imprisonment in Britain for alleged sexual offences committed in Sweden, as if Assange himself is truth, the physical embodiment of all that is right and real.
The pursuit of Assange by law enforcers represents the "persecution of truth itself", an American journalist says.
Just as Christmas is tinged with sadness for Christians because they know where this newborn babe of truth will end up at Easter time, so the Assange apostles warn us that their "truth teller" could end up dead, too, killed by the jealous and furious authorities as surely as Christ was.