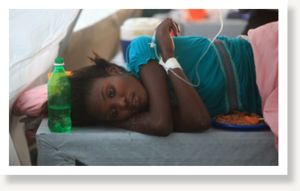 The Russian hygiene service is ready to send its specialists to cholera-hit Haiti alongside an international expert group. The epidemic has claimed the lives of over 4,000 people since it began in October last year. At present, the dangerous disease is reported to be spreading across neighboring Caribbean countries.
Having first appeared as far back as the 16th century, cholera outbreaks turned into a global challenge some 300 years later, in the early 19th century. The epidemic started in India and was then brought by merchant caravans to Russia, Europe and Africa. The world survived at least seven cholera pandemics which hit absolutely every continent.
Fighting the disease in Haiti today are a total of 36 health centers staffed by both local and foreign doctors. The trouble is that the epidemic may break those national boundaries as the warm season approaches, independent epidemiology and vaccination consultant Sergei Romanchuk says.
The disease is spreading throughout Caribbean Basin countries. In Venezuela, the number of ill people exceeded 100 - all of them got infected at a wedding in the neighboring Dominican Republic. Three fatalities were reported yesterday alone. Moreover, four people from the US, who attended the same wedding, fell sick upon their return home, Sergei Romanchuk said.