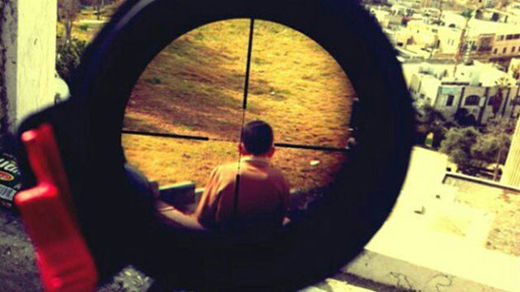 Jerusalem - A photo posted online by an Israeli soldier showing a child in the crosshairs of a rifle scope has created a firestorm on the internet, drawing widespread criticism.
The photo was reportedly posted on Jan. 25 by Mor Ostrovski, 20, a member of an Israeli sniper unit. It shows crosshairs zeroed in on the back of the head of what appears to be a Palestinian boy in a village. The photo has since been taken down and Ostrovski's account has been deactivated.
"There are no other images to suggest that the photographer actually fired at the person in the image in this case," wrote Palestinian activist Ali Abuminah who runs the site Electronic Intifada and drew much of the attention to the photo.
"The image is simply tasteless and dehumanizing. It embodies the idea that Palestinian children are targets."
Before the account was taken down, Abuminah posted other photos from Ostrovski's account that showed him in his olive green uniform holding a variety of weapons, including a sniper rifle.