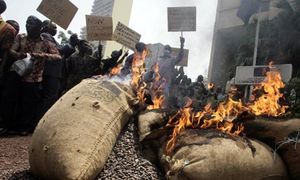 Banks with half of civil servants' accounts close down and cocoa farmers burn crop in protest against Laurent Gbagbo
Ivory Coast's largest bank has shut down, joining other international banks pulling out as the country faces an international embargo over incumbent president Laurent Gbagbo's refusal to concede that Alassane Ouattara won elections in November.
Hundreds of growers in what is the world's largest cocoa exporting country burned some sacks of their beans in symbolic protest, saying that the embargo was denying them their livelihood.
Together, the banks halting operations this week control more than half of Ivorian civil servants' accounts, and will prevent many receiving salaries. French bank Société Générale announced it was shutting its subsidiary SGBCI, after Britain's Standard Chartered, France's BNP-Paribas and America's Citibank said they were suspending operations, prompting lines of people outside branches trying to withdraw savings.