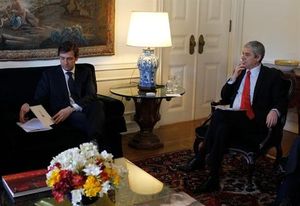 Lisbon, Portugal - Just as Portugal appeared to have dodged a bailout like those taken by Greece and Ireland, a domestic political spat was set Monday to worsen its financial troubles and possibly spoil Europe's efforts to put the sovereign debt crisis behind it.
Portugal's main opposition parties told the beleaguered minority government they won't budge from their refusal to endorse a new set of austerity measures designed to ease a huge debt burden that is crippling the economy.
The new steps are likely to be rejected in a parliamentary vote expected Wednesday and the timing could not be worse. A defeat in the vote, Prime Minister Jose Socrates warned, would trigger his government's resignation, consigning Portugal to at least two months of political limbo just as officials were hoping to boost investor confidence in the country's future.
"At this point, a political crisis is a big push towards the country resorting to outside help," Finance Minister Fernando Teixeira dos Santos said.