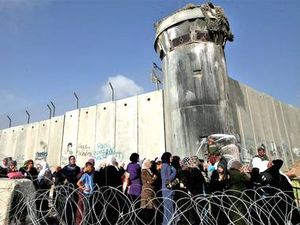 Israel's foreign ministry denied that Israeli settlers were taking water resources from the West Bank.
The Palestinian presence in the largest part of the occupied West Bank - has been, "continuously undermined" by Israel in ways that are "closing the window" on a two-state solution, according to an internal EU report seen by
The Independent
.
The report, approved by top Brussels officials, argues that EU support, including for a wide range of building projects, is now needed to protect the rights of "ever more isolated" Palestinians in "Area C", a sector that includes all 124 Jewish settlements - illegal in international law - and which is under direct Israeli control. It comprises 62 per cent of the West Bank, including the "most fertile and resource rich land".
With the number of Jewish settlers now at more than double the shrinking Palestinian population in the largely rural area, the report warns bluntly that, "if current trends are not stopped and reversed, the establishment of a viable Palestinian state within pre-1967 borders seem more remote than ever".