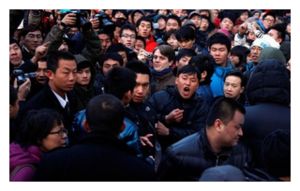 Amidst all the controversy about the
poor working conditions
at the Shenzhen factory that produces its iPhones, Apple officially launched the iPhone 4S at its five mainland China stores Friday morning... only to meet with more controversy.
Like everywhere else in the world, Apple is hugely popular in China, and its stores there "are routinely mobbed for the release of new products," as the
Associated Press describes.
So, when more than a thousand people turned up to queue outside Apple's flagship store in Beijing for the launch of the iPhone 4S, the company was ordered by the police not to open its store to prevent unrest from breaking up.
Well, that only enraged the crowd, many of whom had waited overnight in freezing weather. When the store did not open on schedule at 7am, some in the irate crowd began pelting the store's trademark clear glass walls with eggs while others mouthed off at employees through the windows, the
New York Times reports.
Worth noting is that many of the hundreds who had queued overnight were migrant workers. They were hired by scalpers, who aimed to purchase the coveted phones to resell at jacked-up prices. For a pee of 100 yuan (or $16), migrant workers were bused in to the Beijing store the night before to stand in line.
When the police instructed Apple not to open the store and cordoned off the area with yellow tape, these workers were especially frustrated, because they would now only get a food allowance of 10 yuan after waiting overnight in harsh conditions.