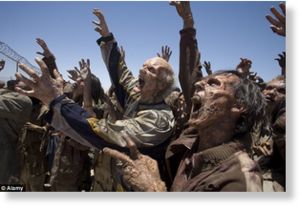 Derelict areas of Detroit face being taken over by hordes of 'flesh and brain-eating zombies' if an ambitious business plan takes off.
Entrepreneur Mark Siwak wants to create live-action terror theme park 'Z World' on Motor City's run-down and abandoned streets.
Customers would pay to be chased by professional actors and try to seek shelter in ghostly homes, factories and businesses.
Siwak said it would breathe fresh life into the rundown city, giving jobs to hundreds, if not thousands, of people.
But critics say it is an 'exploitative and insensitive ploy' to profit from Detroit's problems.