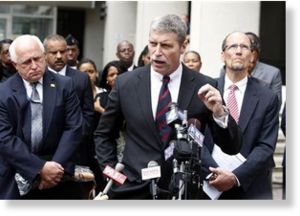 Four former New Orleans policemen convicted of shooting unarmed people following Hurricane Katrina were sentenced to lengthy prison terms on Wednesday in what the U.S. government described as the most important police misconduct case since the Rodney King beating nearly two decades ago.
The four former officers - Kenneth Bowen, Robert Faulcon, Robert Gisevius and Anthony Villavaso - were sentenced by a federal judge to between 38 and 65 years in prison. A fifth former officer - Arthur "Archie" Kaufman - who did not participate in the killings but engineered a four-year cover-up of the crimes was sentenced to six years.
The New Orleans police case was the "most significant police misconduct prosecution since Rodney King," U.S. Assistant Attorney General for the Civil Rights Division Thomas Perez said, referring to the beating of a black motorist by Los Angeles police officers in 1991 that was caught on videotape.
In both the Los Angeles and New Orleans cases, the federal government stepped in to prosecute the police officers for misconduct after local efforts failed.
The five former New Orleans officers sentenced on Wednesday were among a dozen officers who responded to a radio call that police were being shot at near the Danziger Bridge in eastern New Orleans just days after Hurricane Katrina.