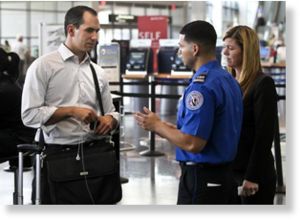 How did Logan travelers handle the new TSA queries? Plenty welcomed the safety measure; others were nervous, self-conscious
Andrew Timko doesn't have anything to hide.
But the 29-year-old Northwestern University graduate student isn't thrilled about the enhanced-behavior detection trial program that began yesterday at Boston's Logan International Airport.
In an effort to identify potential terrorists, Transportation Security Administration officers being trained in Terminal A, home to Delta Air Lines, are now asking every passenger several questions about their travels, such as "How long have you been here?'' If the reaction - for example, profuse sweating or lack of eye contact - is deemed suspicious, the person will be tapped to undergo additional screening, such as a pat-down or bag search, after going through a metal detector or full-body scanner.
Timko, who flies from Boston to Newark every week as part of his internship at the management consulting firm Bain & Co., said he didn't mind the TSA officer's questions about his job and his Illinois driver's license. But he said his tolerance may wear thin if he has to undergo a brief interrogation every time he goes through security.