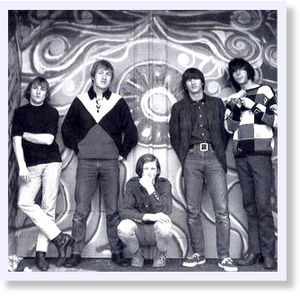 The Byrds were the very first folk-rock band to take flight, and the one that achieved the greatest fame, but to many discerning ears, Laurel Canyon's other folk-rock powerhouse, the Buffalo Springfield, was the more talented band.
In the literature chronicling the 1960s music scene, few stories are repeated more frequently than the legend surrounding the formation of what would later be regarded as perhaps the first 'supergroup.' All such accounts unquestioningly retell the story as though it were the gospel truth, seemingly oblivious to the improbability of virtually every aspect of the legend. And curiously, virtually every version of the story contains some form of the word "serendipity," as though everyone has been copying off the same kid's homework.
As the story goes, Stephen Stills and Richie Furay, formerly of the Au Go-Go Singers, had recently transplanted themselves to Los Angeles after the breakup of the manufactured folkie group. Stills had been the first to relocate, in August of 1965. Furay flew out to join him in February 1966, after spending a little time working at defense giant Pratt & Whitney, and the two set their sights on putting together a folk-rock band.
Meanwhile, up in Toronto, Neil Young and Bruce Palmer were playing in a band known as the Mynah Birds - a band fronted by an AWOL Navy man known as Ricky James Matthews, who would later morph into funkmeister/torturer/rapist Rick James, but whose real name was James Ambrose Johnson, Jr.. The Mynah Birds broke up in March of 1965, just after authorities came calling on Matthews and tossed him in the Brooklyn Brig. Now in search of a new band, Young made the curious decision to head out to LA, for no better reason than that he had what Palmer described as "a hunch, a feeling that ... Stephen Stills was in LA."