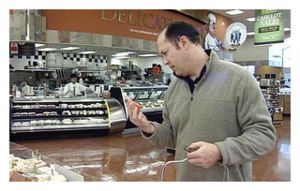 In many ways, the biggest consumer trend that has emerged this past decade is the emergence of men as a desirable demographic for marketers. Witness the rise of the metrosexual, who probably carries a man bag, goes for manscaping once in a while, and enjoys a mancation every so often.
Now, it seems the latest thing that the new 21st century man is doing more so than ever is grocery shopping.
Yes, though supermarkets like Whole Foods, Costco and Safeway are traditionally more strongly associated with and marketed towards women, the
LA Times reports
that men are taking over grocery duties in larger numbers than ever before, thanks to the recessionary times, which have seen more men get laid off than women (a mancession?).
One study conducted by consumer research firm GfK MRI and ESPN revealed that in 2011, 31% of men in America were the chief household grocery shoppers, more than double the 14% from 1985.
In a separate Yahoo survey of 1,000 fathers, the figure is even higher, with 51% reporting to be their household's primary grocery shoppers.