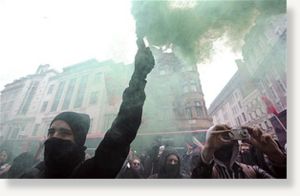 Violent anarchists who rampaged through London during anti-cuts protests are planning to target the royal wedding, police intelligence have suggested.
Scotland Yard officers are working urgently to identify
the extremists who clashed with police
and attacked landmarks on Saturday before they can strike again.
Commander Bob Broadhurst, the head of public order for the Metropolitan Police, warned that the anarchists would be "deliberately targeting" the wedding of Prince William and Kate Middleton on April 29.
"The concern for me is that they do what they did yesterday in central London and divert resources away from my security plan and take our eye off the ball security wise," he said.
Ed Miliband, the Labour leader, was under fire last night for speaking at the TUC march, during which the violence occurred. Writing in
The Daily Telegraph
, Boris Johnson, the Mayor of London, said Mr Miliband would have been "quietly satisfied" by the chaos and claimed it was not surprising there was violence as Labour was failing to offer any alternative to the cuts.
The weekend's rally against the Government's austerity drive was marred by splinter groups who attacked officers and targeted shops and hotels. Mobs of masked anarchists pelted officers with sticks, paint bombs and fireworks loaded with coins.